Gas delivery roadside service in Cleveland, OH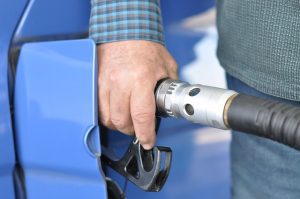 If you're gas light comes on, you should stop to fill up at the pump in the next 20 to 40 miles.
Of course, some of us risk takers try to stretch it. We think we can make it one or two more exits … but then your vehicle begins to slowly come to a halt and runs on fumes until it stops cold.
You slam the dashboard or steering wheel violently with your fists. How could this happen to you?
Relax and take a deep breath. We got your back.
Our Cleveland, OH roadside assistance teams delivers fuel fast and affordably when you need us most. We even work 24 hours a day for emergency situations.
Call us right now for quick and friendly fuel service on streets, roadways and expressways of Cleveland Heights, Parma, Chagrin Falls, Euclid, Ohio City, Cuyahoga Heights, I-90, I-71, I-77 and throughout northeast Ohio.
What to do when you run out of gas
Running out of gas can happen to anyone. It might be that your fuel tank gauge has malfunctioned and no longer provides an accurate reading. You think you have a half tank a gas, but you're at empty.
In those times, when you're vehicle has run of gas, follow these steps:
Remain calm.
If possible, move your car away from traffic off the side of the road.
Put on your four-way flashing emergency lights.
If a gas station is nearby and you feel safe and capable of walking, do so.
Call a friend or family member for a lift.
Contact our roadside assistance professional for prompt 24/7 emergency fuel delivery.
Why choose us for fuel delivery service
If you're stranded and need a fill up, select us for the following reasons (and others we can't fit here):
We move fast and value your time.
Our rates are fair and cost less than most of our competitors in Cleveland.
Our roadside experts are friendly and experienced.
We're licensed and insured.
We serve every part of the Cleveland region and now the area like the backs of our hands.
Other roadside assistance services in NE Ohio
In addition to gas delivery, we offer the following roadside assistance services:
Battery charges and jumpstarts
Flat tire changes and repair
Accident recovery
Lockout assistance
Windshield glass replacement and repair.