Flatbed towing Cleveland, OH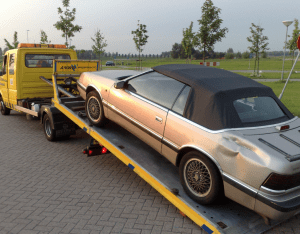 While traditional dolly towing is an ideal method in times when quickness and efficiency is important, there may be occasions when flatbed towing is a better choice for the situation.
A flatbed tow truck typically provides greater security and safety when hauling vehicles, cars, motorcycles, small boats, and other machines that go. Flatbed towing is oftentimes the best option for the following types of tow jobs:
Antique, classic and vintage car towing
Towing for large pickup trucks and sport utility vehicles (SUVs)
Specialty vehicle towing (Corvette, Rolls Royce, Ferraris, Mercedes, etc.)
Towing to a repair shop
Tow to or from a dealership
Contact us today for a towing estimate or to schedule low-cost flatbed towing service in Cleveland, OH area. We are licensed and insured not only to tow in Ohio but throughout the United States.
Best Cleveland flatbed tow truck service
When it comes time to pick a tow truck company, you'll have plenty of choices. Select our Cleveland towing pros for the following reasons:
We're flatbed towing experts. We employ highly qualified drivers and operators who specialize in flatbed tow services
Our rates are affordable. We may not be the cheapest tow service, but our rates are fair and service is dependable.
We work on your schedule. We have the flexibility to get your towing job when the time is best for you.
We stay in touch. From your first call to when the job is completed, we keep you updated with calls and texts.
We may be based in the heart of Cleveland, but our services extend well beyond the Sixth City borders.
We provide towing assistance throughout northeastern Ohio, including Parma, Willoughby, Cuyahoga Heights, Lakewood, Cleveland Heights, Brecksville, Independence, Chagrin Falls, Chardon, Berea and other towns and communities.