Affordable towing in Cleveland, Ohio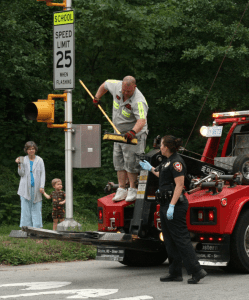 Usually when you need a tow, it's an emergency situation. You don't plan for it, and you might not have enough money in your bank account to cover the costs.
Affordability is important when selecting a towing and roadside assistance service. Of course, you don't want the cheap company that isn't licensed, insured, safe or careful. But you also don't want to use the company that charges an arm and a leg.
That's where we come in. Our tow truck rates in Cleveland are low and fair. With our combination of cost, expertise, and outstanding customer service, we provide true value.
Contact us right now for a free instant towing estimate and 24-hour roadside assistance in the northeast Ohio region.
Low cost 24/7 tow truck services
Our licensed, insured and experience tow truck drivers deliver the following 24/7 services:
Local towing
Long distance towing
Accident recovery towing
Winch out and pull outs from ditches, snow banks and creek beds
Wrecker services
Abandoned and unregistered vehicle towing
Junk car removal for cash
Fair roadside assistance rates
In addition to our exceptional towing help, we offer the following affordable roadside assistance options:
Flat tire changes and repairs
Dead battery charging and jumpstarts
Fuel and gas delivery
Lockout assistance
Windshield glass repair and replacement
Choose us for affordable roadside service
In addition to our low-cost rates, choose our Cleveland, OH towing company for these other reasons, as well:
We get you back on the road fast with prompt and efficient service.
Our tow operators and roadside technicians have years of experience and are intensely trained.
We're friendly, helpful and professional.
We stay in constant communication from the time you call us until the job is finished to your satisfaction.
Contact us today for more information about our affordable tow and roadside services in Cleveland, Parma, Cleveland Heights, University Heights, Cuyahoga Heights, Berea, Strongsville, Lakewood, Ohio City, and beyond.